Are you test right? Are you test the right!
In many projects you may ask yourself:
Is this the correct browser that the customer use? What are the devices set will be used in live under which conditions?
How the customer use the application? Which personas should be covered? Is this the correct workflow?
How does this calculation work?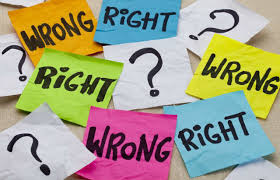 And many other questions you may ask yourself about, yes yourself because the isolated islands mode is the theme of most companies.
If you don't know the answers to these questions this will end up to these questions is delays, failures, projects overrun, many kinds of wastes…
You should know that the effective and efficient test plans should answer the questions of are we test right and are we test the right.
One test practice can answers the first question, is the early engagement.
Early engagement helps to know your test environment, understand the user needs, and elaborate the optimum approach to deal with project challenges.
This is required to know the moment of involvement, early testing not about seating in the project kickoff meeting, but means start there and go forward until delivery.
One of Agile axis are the 3 amigos, this practice relies on working together from the beginning, business + development + testing.
Domain knowledge helps to know the business roles and allows you to design the test cases which cover the needs.
This is also one of the core skill set required from the testers.
So, your testing skills and your domain knowledge will help to know if you test right and also if you test the right.
Author:
Samer Desouky is an Agile Coach, Software Quality & Testing Consultant & Mentor with more than 15 years of extensive experience in managing development, quality and testing teams in Banking, HR, Oil & Gas, Social Networking domains with extensive experience in testing web, desktop, and mobile apps.